News Update
Marine Gardens BC / pre-season report 22nd March 2021
(March 22, 2021)
---
Daffodils are blooming, the clocks go forward next weekend, and on the 17th of April the members of Marine Gardens BC will be gambolling across the green like so many spring lambs. Well, two out of three is not bad!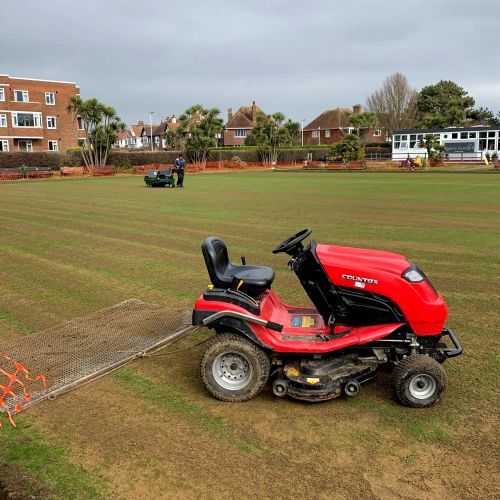 Dragmat and Tractor.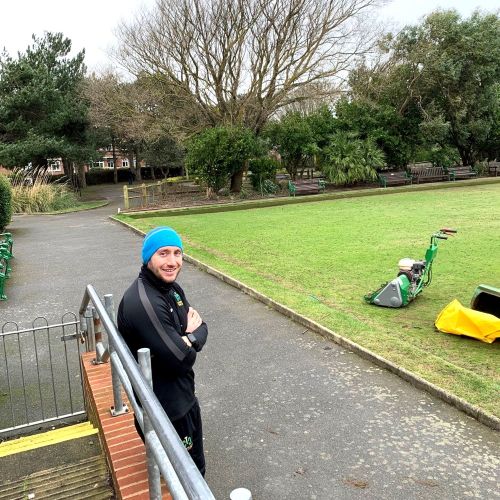 Groundsman Dan.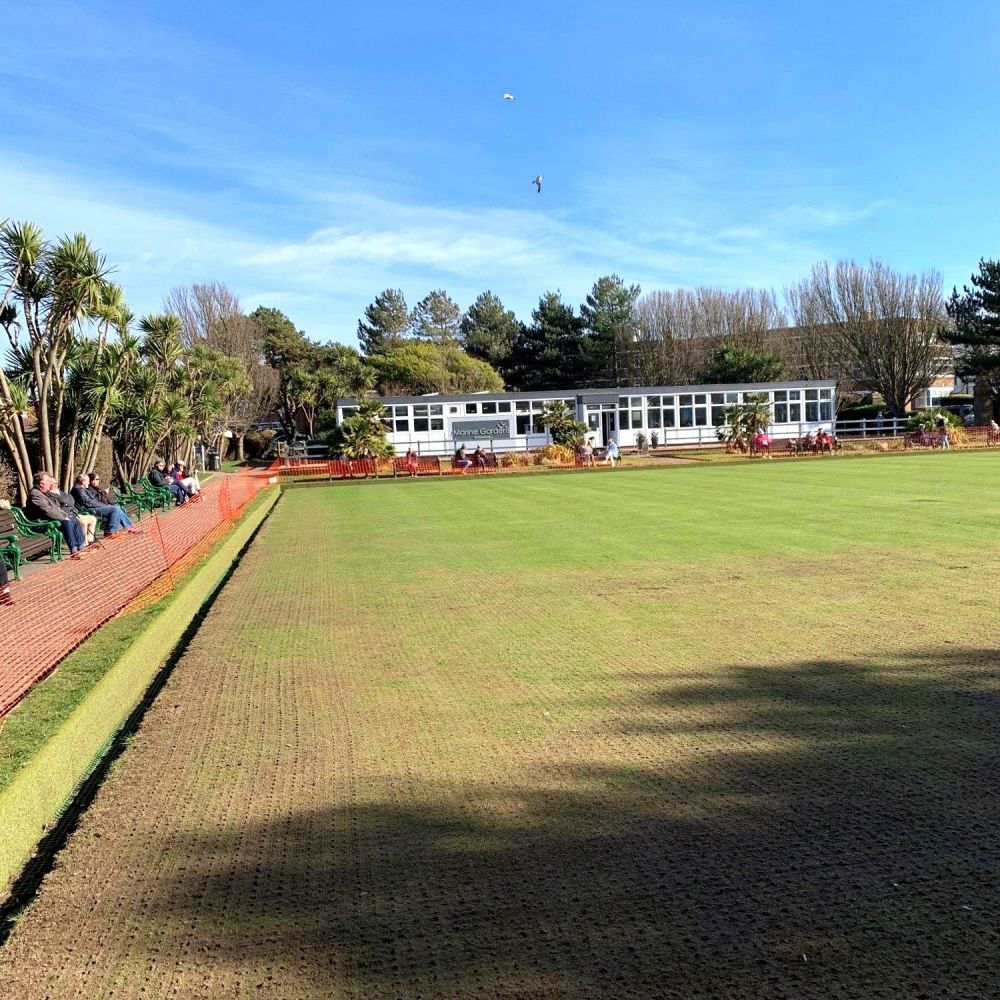 Green after spiking and Verti-cutting.
After the extensive renovations undertaken by Ben Harwood and his team at Complete Turf Care, the green will be open for business on Saturday 17 April. The first week of the new season will be members practice sessions only. The formal Opening Drive, where the President and Captain will deliver the ceremonial first bowls of summer, takes place the following Saturday; 24th April at 1.30pm.
The club will continue to observe all prevailing COVID restrictions and safety guidelines. However, we hope to enjoy a full quota of 80 plus matches, comprising many friendly games alongside competitive play in the West Sussex, Stracey and Brodie leagues. The popular Tuesday morning triples league will return, as will a full hand of twelve internal competitions.
Key dates and info for members and supporters –
1) 17/04/21 at 1.30pm, green re-opens for members only.
2) 24/04/21 at 2pm – formal opening ceremony followed by a club drive.
3) 01/05/21 at 2pm – Ladies v Gents; our annual battle of the sexes.
4) 02/05/21 and 16/05/21 from 11am to 3pm – two Open Days for prospective new members. All equipment will be provided, no charge and no obligation to join. Please come and try this great game.
5) 18/05/21 at 2pm – Captain v Vice-Captain. A duel between teams representing club captain Michael Ives and vice-captain; also, club president, Jill Colbourn.
6) 21/05/21 at 2pm – our Supreme Champion clash will see the 2020 ladies champ take on the 2020 men's champ. This competition has been contested four times and the ladies and gents have two wins apiece. Who will emerge victorious in 2021? I am not a betting man…but the smart money is on ladies' champ and club secretary Jenny Ashman. Who is stepping up for the men? Your hapless correspondent!
7) 02/07/21 at 2pm – President's Day. A fun match for club members with; regulations permitting, plenty of home-made cake.
8) 07/07/21 at 2pm – Captain's Day. A fun match for club members with; regulations permitting, more home-made cake.
9) 07/08/21 at 2pm – President v Captain. A fun match for club members, but with an edge because the Jubilee Trophy is at stake. But to lighten the mood there may be more cake!
10) 22/08/21 – the annual Captain's Charity Day. For 2021 Mike Ives has nominated the excellent and highly deserving Chestnut Tree House. We will be raising funds throughout the season, but this special day is the major money-spinner. Funs games on the green; stalls of books, bric-a-brac etc. Please come and support. And yes, there will be cake for sale too.
Marine Gardens BC celebrates 91 years of bowling enjoyment this summer. We make no pretence of being the most competitive club in town. We give everyone a fair game and the emphasis is firmly on fun and friendship. And yes, tea and cake! Occasionally, a game of bowls breaks out too.
If that sounds appealing, then please come along to the open days on Sunday 2nd May and Sunday 16th May; 11am to 3pm. Cannot make those dates? Please contact club secretary Jenny Ashman on 01903 505077, email [email protected] to make alternative arrangements. You will be most welcome.