News Update
Marine Gardens BC – report for w/e Saturday 01/05/21
(May 01, 2021)
---
Leatherjacket larvae are exceedingly small, but they have caused big problems at Marine Gardens in recent weeks. An infestation has hit the entire green with two fifths covered with germination sheets. Sussex CCC and other bowls club have been similarly blighted, but we hope the whole green at Marine will have been restored within the next few weeks. Regular watering by a team of volunteer members has certainly helped; aided by flocks of starlings feasting on the larvae!
Sadly, the planned opening on 17 April was cancelled and the 2021 home season finally burst into life on Saturday 1st May with a ladies v gents match. Ongoing COVID restrictions mean only 24 players can be on the green at any time. Consequently, four lots of triples started at 10am followed by another four sets of triples at 2pm.
Prior to that the customary opening ceremony took place at 09:45am. Club President Jill Colbourn and Club Captain Michael Ives rolled the first bowls and announced the green open. It was reassuring to see this tradition renewed after being wiped out last year.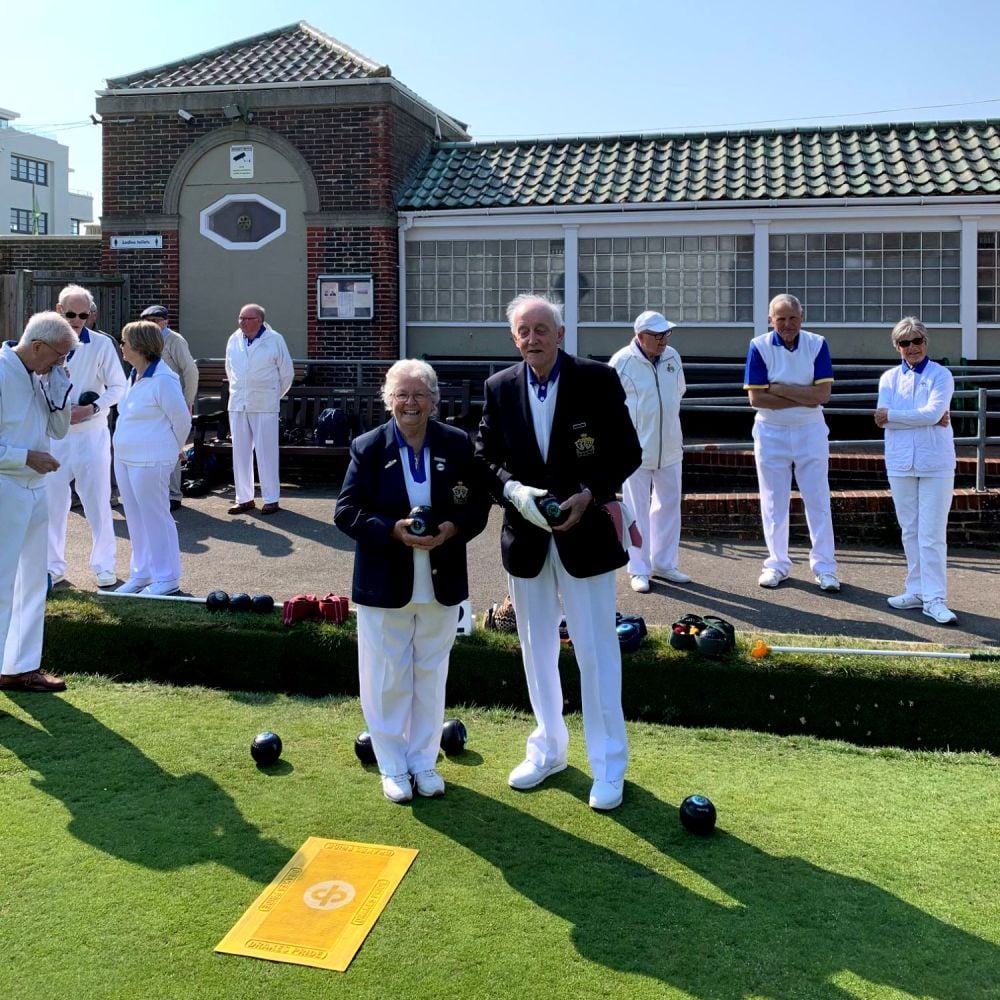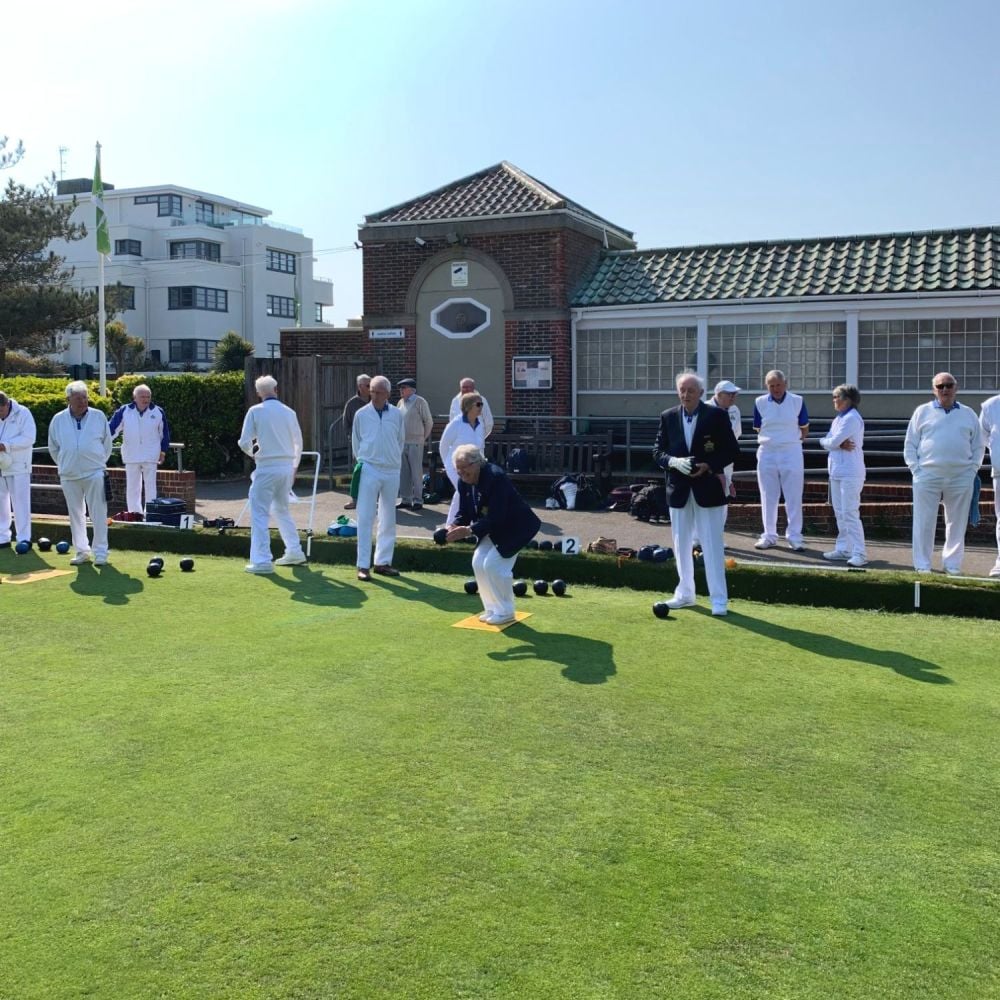 The dry weather had made for an unseasonably quick surface and some pleasingly accurate bowling ensued.
A final tally of the cards saw the gents just pip the ladies by 65 shots to 64. But regardless of who won it was simply excellent to see players back on the green.
Before the fun resumed at home the club was delighted to play three social games away at Goring Manor. One match was played on Wednesday 28 April and two more in the morning and afternoon of Friday 30 April. Unsurprisingly, Manor exploited home conditions and were deserving winners in all three matches.
Wednesday 28 April 2021
Rink scores:
Roger Parrish, Jill Colbourn & skip Ivan Godsmark – 11 shots, lost to F Fahey 17 shots
Elizabeth Baldwin, Terry Ashley & skip Mike Hitchin – 12 shots, lost to T Tsoi 20 shots
Tim Baldwin, Leon White & skip Jim Gray – 16 shots, won against K Pearce 13 shots
Marine Gardens 39 shots lost to Goring Manor 50 shots
Friday 30 April 2021
Rink scores:
Keith White, John Nettleingham & skip Jenny Ashman – 10 shots, lost to K Pearce 29 shots
George Tracey, David Smith & skip Dave Muggeridge – 13 shots, lost to D King 17 shots
Laurie Bradley, Shaun Coppard & skip Harry Smith – 12 shots, lost to D Crockett 17 shots
Marine Gardens 35 shots lost to Goring Manor 63 shots
Paul Baker, Harry Tattersall & skip Michael Ives – 15 shots, lost to R Gore 21 shots
Roy Mills, Alan Patterson & skip Mike Hitchin – 11 shots, lost to T Tsoi 25 shots
Albert Leatham, Dennis Crossweller & skip Dennis Martin – 22 shots, beat B Porter 9 shots
Marine Gardens 48 shots lost to Goring Manor 55 shots
Due to ongoing COVID restrictions and the limited access allowed to clubhouses, the open days planned for Sunday 02 May and Sunday 16 May have been cancelled.