News Update
Marine Gardens Bowling Club, report w/ending Sunday, 4th June 2023.
(June 04, 2023)
---
The month of May did indeed end on a merry note for Marine Gardens with victories recorded away against East Preston in the West Sussex Bowls League and at home against Goring Manor in the Brodie Tray League.

The match at East Preston featured a top rink score of 31-11 by skip Graham Poole, Gerry Perch, Duncan Gayler and Norman Deegan. All 3 rinks were won by Marine Gardens who happily departed with all 8 points and a 75-40 scoreline.

The good times continued to roll at home against Goring Manor when a 3 -1 rinks victory was recorded. The pairing of Harry Smith and Ivan Godsmark led the way with a fine 20 - 8 result. Marine Gardens thus finished May with a further 8 points and a 71 - 55 scoreline.
We welcomed the month of June with a visit from Lancing in yet another Brodie Tray League match. Marine Gardens continued their fine run of form by again winning 3 rinks to 1. The overall shots score was close at 79-70 with top rink honours going to skip Norman Deegan, Bob Cole, and Keith White. And a further 8 points were most welcome.
All good things come to an end and Marine Gardens suffered a fall from grace at Worthing in the Stracey Shield League. All 4 rinks were lost with a shots scoreline of 106-50 in favour of Worthing, emphasising the scale of the defeat. Better luck next time!
Alan Paterson, Press Officer.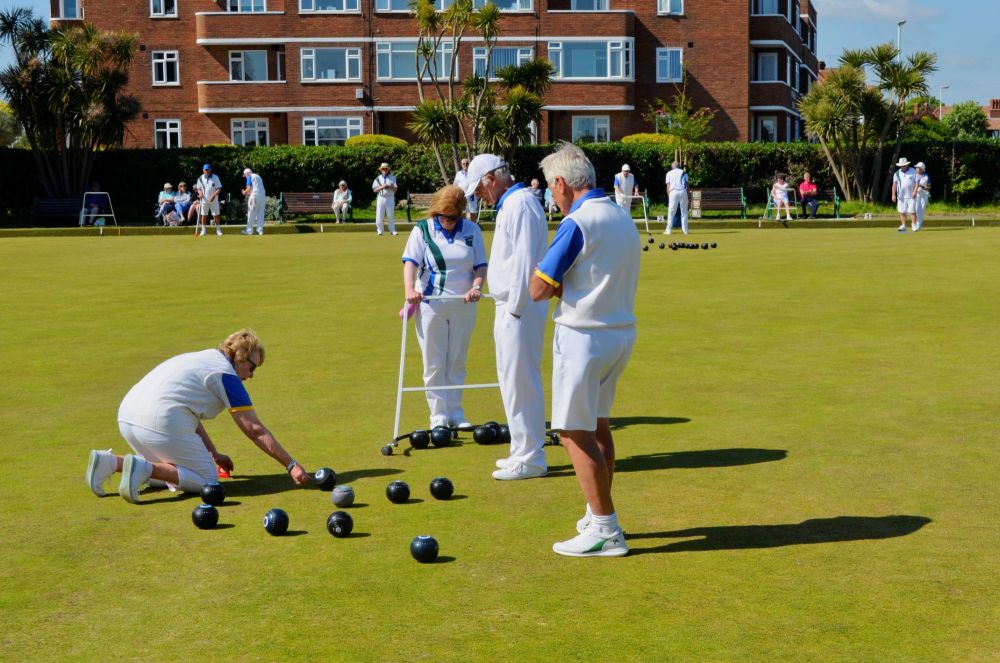 Captain, Wendy Wilson exercising her measuring skills.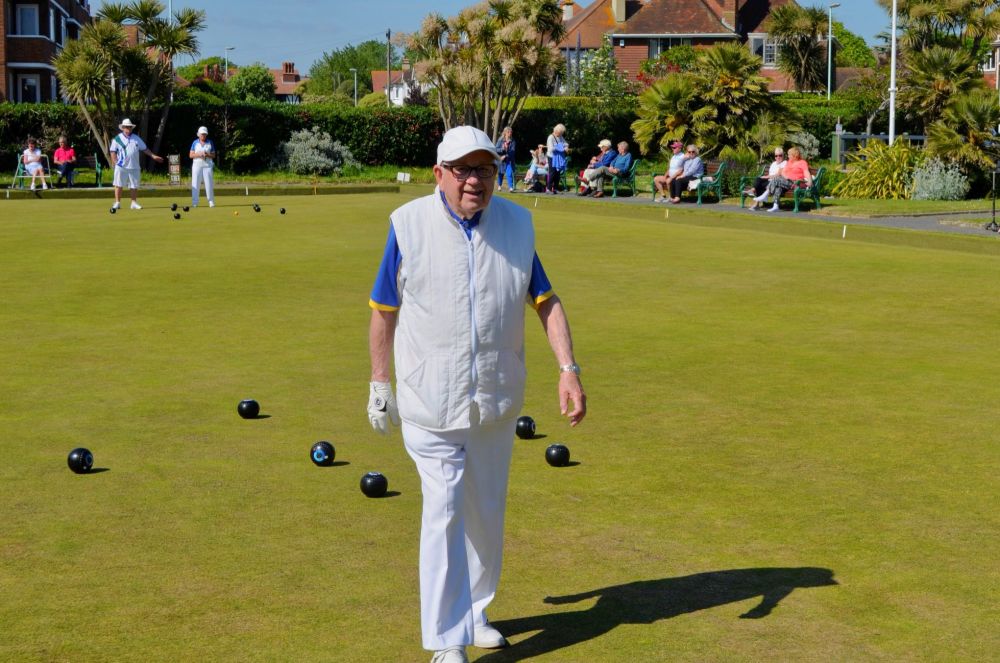 Harry Smith, and skip Ivan Godsmark gained a 20 - 8 result against Goring Manor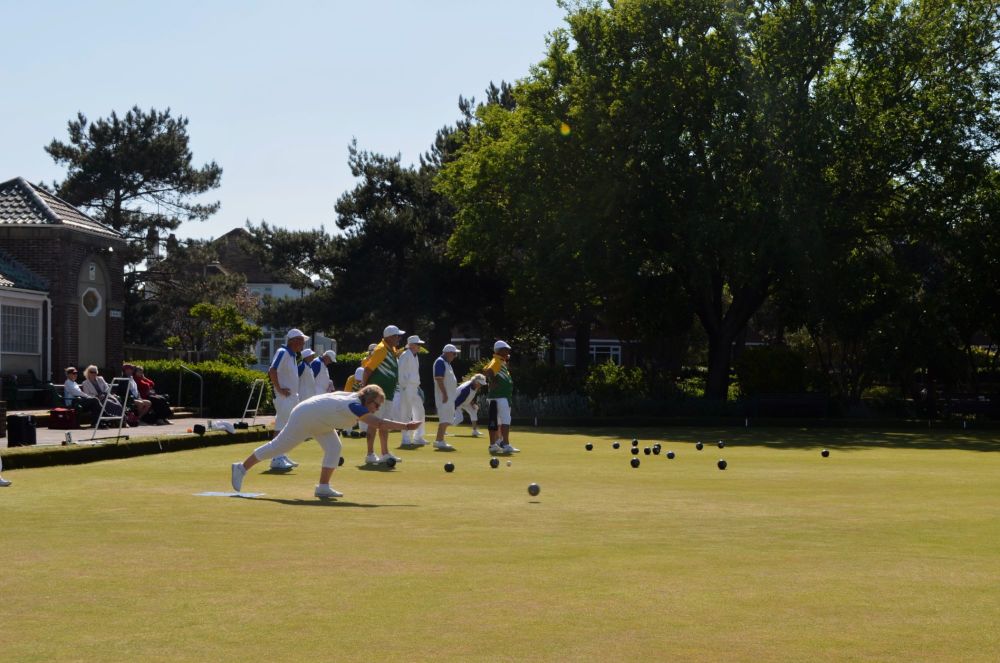 Marine Gardens v Lancing
Marine Gardens v Lancing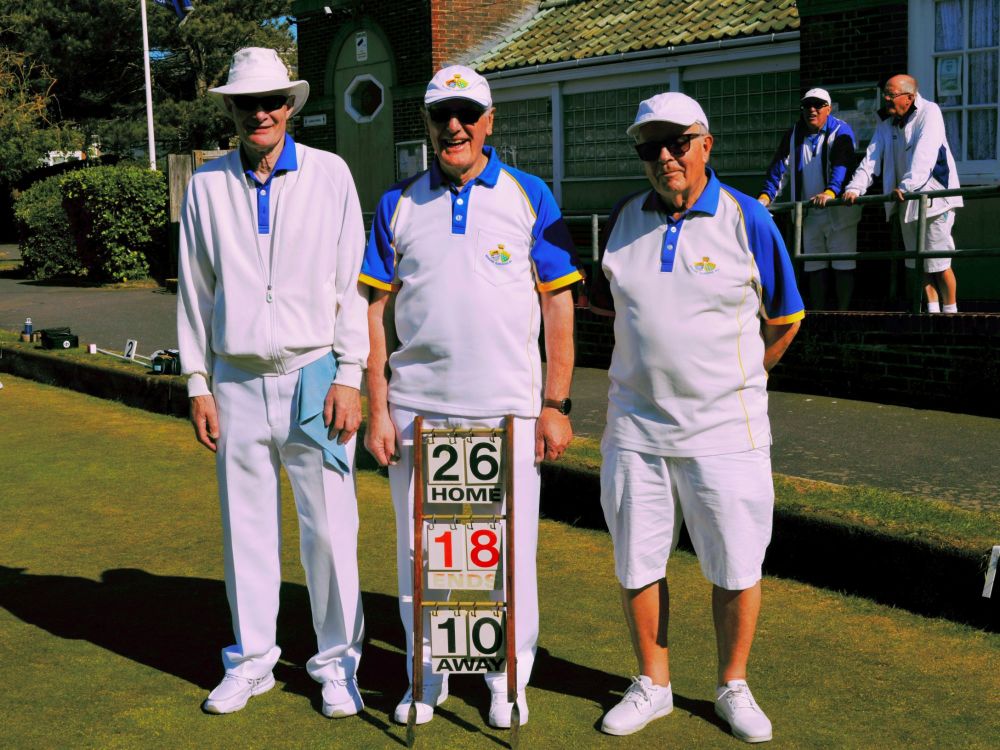 Marine Gardens, Top rink, skip Norman Deegan, Keith White and Bob Cole.,