News Update
Marine Gardens Bowling Club, report w/ending Saturday, 26th August 2023.
(August 26, 2023)
---
A very well-attended Club Drive saw top rink honours being won by Noreen Sadler, Linda Godsmark, John Sadler, and Mark Berriman with an impressive 30-10 winning score. Congratulations to our newcomers.
Norfolk BC turned up the heat for us on our visit winning on 3 rinks to 1 (64 - 57)
Don Gould, Fred Knight, Allan Crosskey and Tim Baldwin flew the flag for us with a fine
18 - 10 win.
We then moved on to the rain-interrupted annual Club Finals played over 3 days.
We witnessed many close and exciting matches and congratulations are due to all the competitors, officials, and Paula Seymour the club's competition secretary who made it all possible. The results are as follows:-
Men's Championship Singles
Winner Perry Cairns 22 - Leon White 15
Ladies Championship Singles
Winner Jane McHugh 21 - Jenny Ashman 14
Men's Championship Pairs
Winners Graham Ray & Peter Guy 19 - Ivan Godsmark & Jim Gray 12
Ladies Championship Pairs
Winners Angela Neale & Jenny Ashman 24 - Anne Knight & Betty Stevenson 7
Junior Cup
Winner Ken Leadbeater 22 - Roger Parrish 15
3 Wood Stan Wheeler Cup
Winner Leon White 19 - Perry Cairns 12
Veterans Cup
Winner Ivan Godsmark 18 - Tim Baldwin 16
100-Up
Winner Ivan Godsmark 104 - Bob Cole 76
2 Woods Yardstick
Winner Ivan Godsmark 10 - Jim Gray 8
Handicap Singles
Winner Perry Cairns 20 - Gerry Perch 14
Handicap (Drawn) Pairs
Winners Ivan Godsmark & Ken Leadbeater 12 - David Smart & Albert Leatham 3
Mixed Pairs
Winners Pamela Chambers & Ivan Godsmark 17 - Angela Neale & Jim Gray 15

A new trophy, the "Noel Stevenson Memorial Cup", was donated by Betty Stevenson and her family in memory of her late husband Noel, a much-loved and respected member of our club, who was always ready to help and foster new talent joining the club.

The cup was presented by Jim Gray to Perry Cairns recognising his excellent progress and contribution as an outstanding new to-bowling member of the club in his first 2 years.

Finally, our congratulations to Graham Ray on receiving his Level 1 Coaching Certificate, well done, Graham.
Alan Paterson, Press Officer.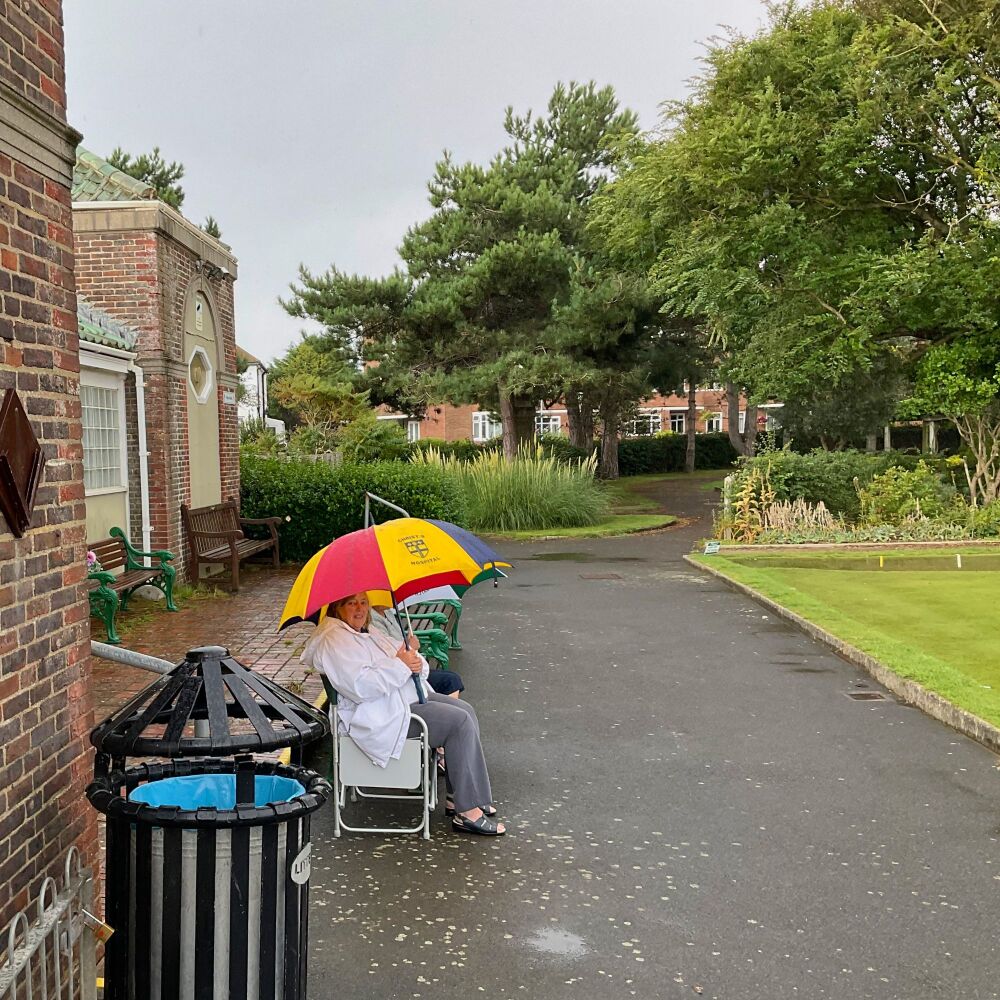 Linda, never put off by adverse weather conditions.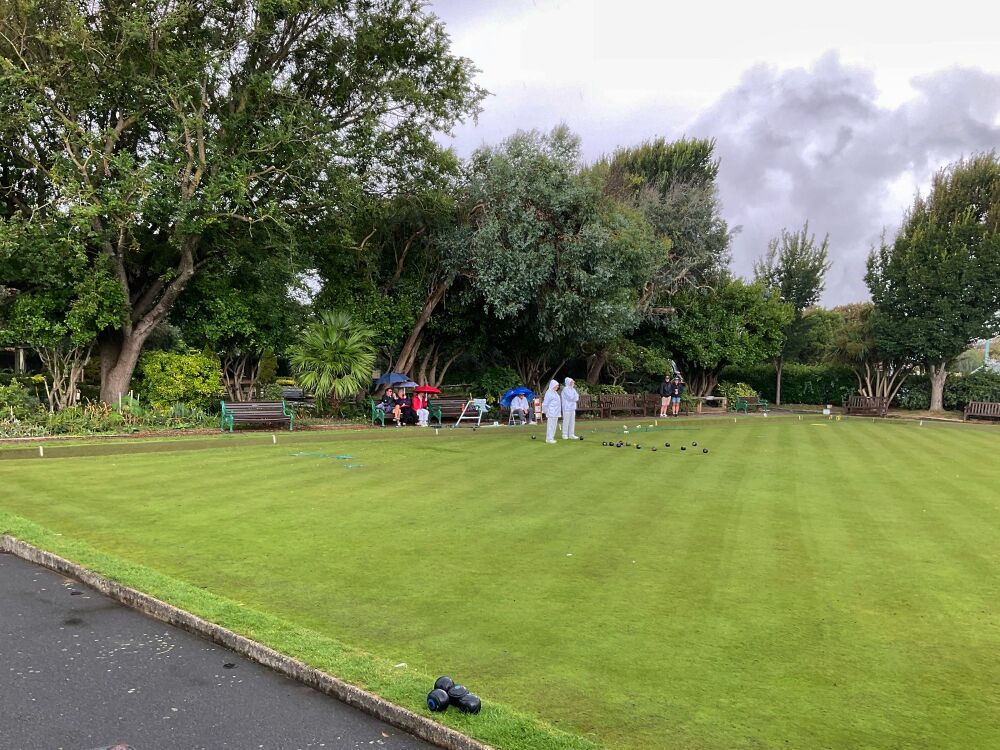 The weather was so unkind to both finalists and spectators.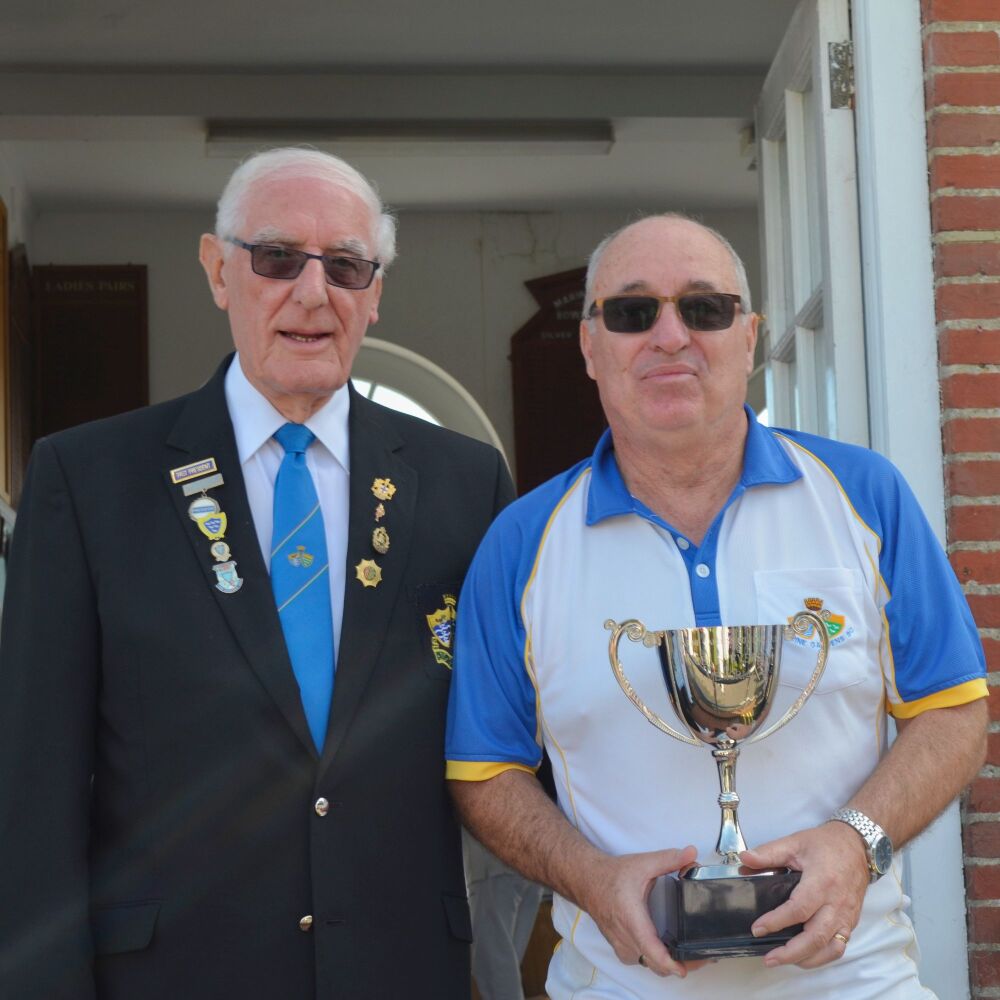 Congratulations to Perry Cairns, the first new member to receive the Noel Stevenson Memorial Cup.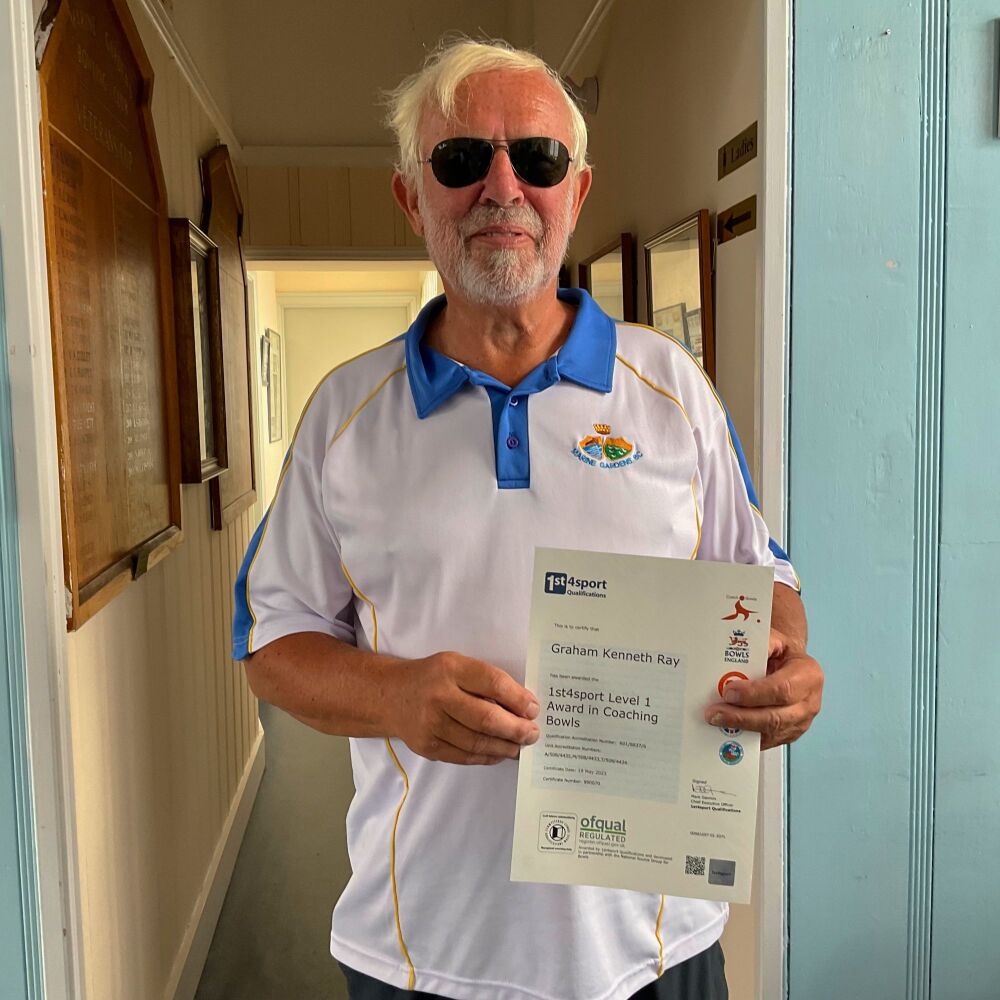 Congratulations to Graham Ray on receiving his Level 1 coaching certificate.